1857

Rent receipt ~ Hugh Graham 1857
Receipt for 1 doz. eggs and 1 hen from Hugh Graham, dated Ospisdale 7 April 1857. Signed JG..

Photocopies of pages from 1857 Reynolds Almanack
Phototcopies of pages from 1857 Reynold's Almanack including inside front cover (with details for 18...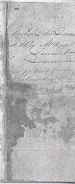 Missive of lease Skibo 1857
Photocopy of missive of lease between George Dempster of Skibo and Alexander McKay Clashmugach 19 De...