1775

Cordiner's sketch of cathedral nave 1776
Photocopy from Bentinck's book (1926) showing Cordiner's sketch of the ruined cathedral c. 1776.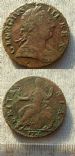 Coin found at the Burghfield Hotel
George III 1775 halfpenny piece found at the burn between the fields at the rear of the Burghfield H...

Burgess Ticket complete with seal
Burgh of Dornoch, Burgess Ticket in favour of Mr Alex.Sutherland,Tain. Dated 1775.