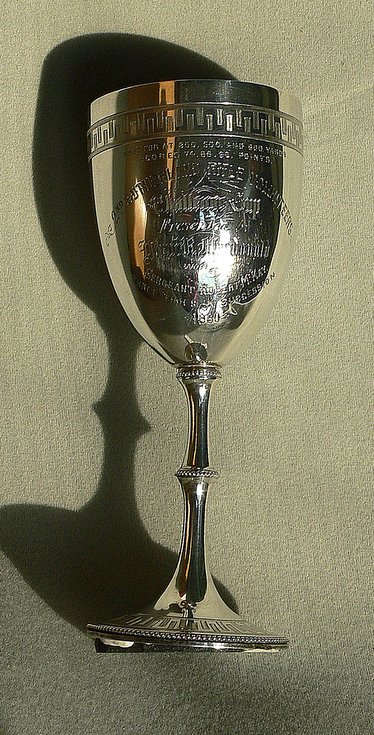 Historylinks
2nd Sutherland Rifle Volunteers Challenge Cup - Robert Mackay 1880
Silver goblet-shaped trophy (a) in a cylindrical presentation case (b). The trophy is engraved with a geometric border round the rim and foot, with the details of the prize on the front: "Shot for at 200, 500 and 600 yards. Scores 74, 88, 92 points. 2nd Sutherland Rifle Volunteers Challenge Cup Presented by Lieut R Macdonald Won by Sergeant Robert McKay Three Times In Succession 1880". On the opposite side is what is supposed to be the Dornoch crest - horseshoe over a cat on a shield with three mullets and the words SANS PEUR. However, the animal in this case is a horse, probably a mistake on the part of the engraver. Above the crest are the maker's marks: EC over B, lion, leopard, B, monarch's head (London 1877/8). The stem of the trophy is slightly distorted so that it does not stand quite flat on its foot.
The case is made of wood covered with dark brown textured paper stamped with a gold line, and is lined with dark purply brown ruched satin edged with brown braid. It is hinged vertically down the cylinder so that it opens longways into two equal parts. The lining and braid are coming away from the case in two places at top and bottom where the trophy has been pushed against them as it was put away.
Part of the Robert Mackay collection.
Picture added on 28 February 2010