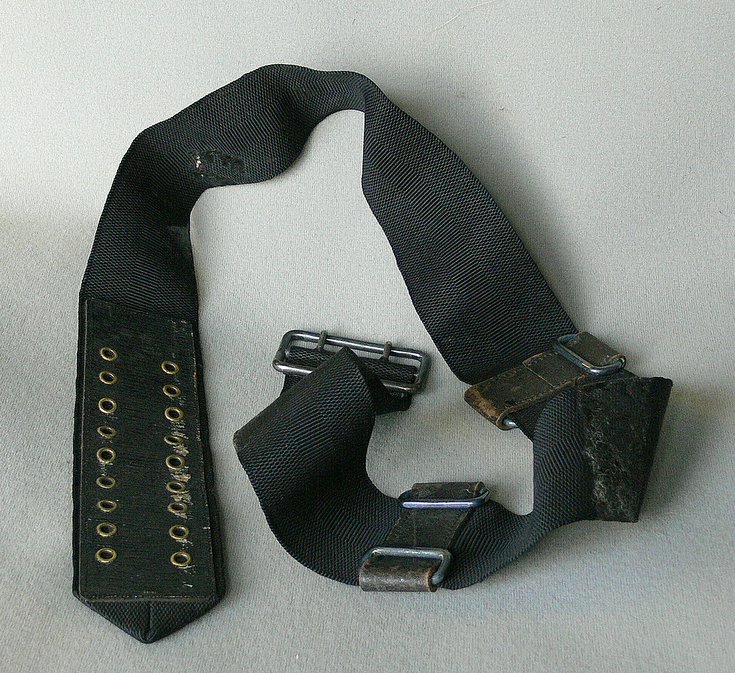 Historylinks
Cameronians Web Sword Belt
A web sword belt of the Cameronians which belonged to Capt Rose. The belt 910mm long and 49mm wide has a series of double brass eylets, with leather backing, for adjustable waist fixing to the two-pronged buckle. There are two leather cross pieces, centred at 200 mm and 400mm from the buckle with oblong gun metal rings at either end. It is apparent from detail in Army Dress Regulations - see below - that the belt is missing a shoulder suspender.
In the extract from Army Dress Regulations for the Scottish Rifles (2008.146.14) page 48 paragraph 700 describes 'Sword Belt for wear with the Patrol Jacket and Frock - web as described in Appendix V111 (2)".
Page 110 Appendix V111(2) with central title 'Web Sword Belt" contains a sketch of the belt and the following description: "This consists of a waist belt and a shoulder suspender of worsted web, strengthened at various parts with black Morocco leather. It is furnished with loops, chapes and dees as shown in the drawing annexed. The loops and chapes are of Morocco leather and the furniture of gilding metal. The suspender is fitted with hooks so that it can be removed by officers wearing the web belt under the sash, outside the frock coat."
Picture added on 06 October 2009