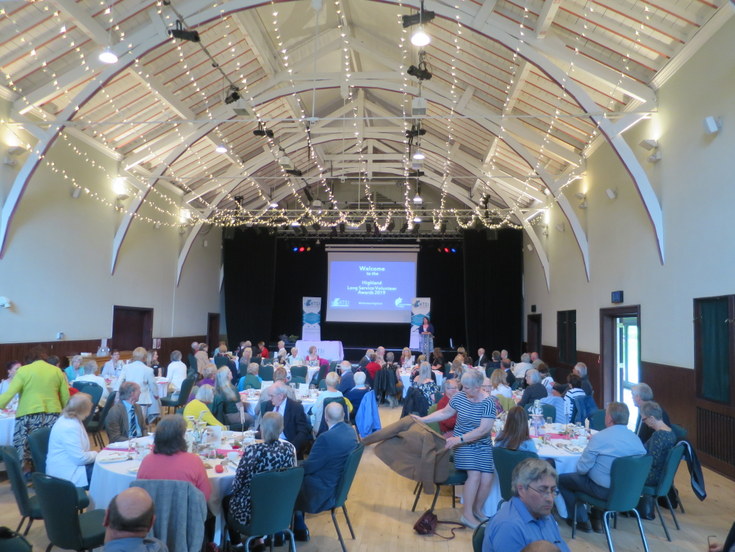 Historylinks
Volunteer Long Service Tea Party
Colour photograph of the Tea Party in the Spa Pavilion, Strathpeffer on Saturday 8th June 2019 on the occassion of the Highland Third Sector Interface (HTSI) 'Volunteer Long Service Tea and Presentation', at the end of Volunteers Week 1-7 June 2019. John Barnes and Tony Rundle of Historylinks Museum are seated in the 2 and 3 o'clock positions of the circular table in the left foreground.
The assembled party enjoyed a convivial, pleasant tea, seated at round tables of 10 in the impressive Spa Pavilion, following which in groups of 5 they were called forward to be presented with their individual certificates by Mr John Finnie MSP. The 7 presentation groups spanned 10, 15 20, 25, 30 and 40 more years. The final group of Mary Findlayson, Margaret Huntley and Beth Miller of The Samaritans had achieved impressive 45, 42 and 41 years voluntary service and accordingly they were additionally presented with bouquets of flowers.
In his closing address John Finnie expressed due recognition and gratitude for the amazing people within communities in the highlands who have volunteered for many years, following which there was a final group photograph of all certificate recipients.
Picture added on 28 August 2019 at 10:59