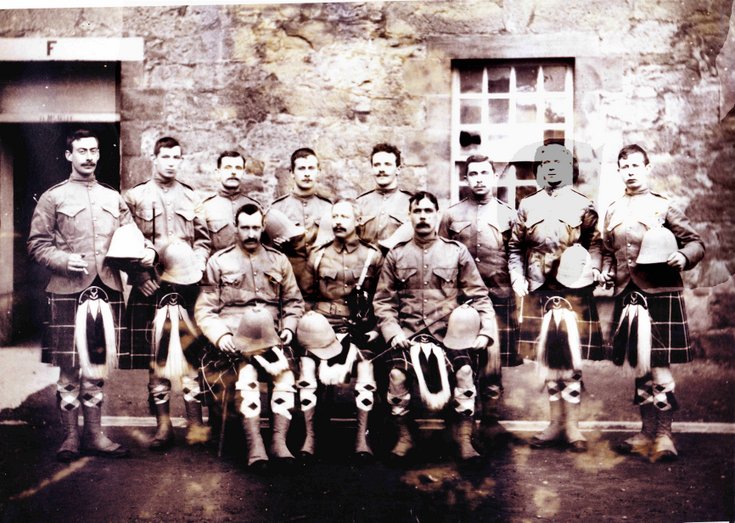 Historylinks
Dornoch Volunteers departure for South Africa
A poor quality photograph of the 11 Dornoch volunteers, dressed in their field uniform, taken at Fort George prior to their departure for South Africa. This photograph was reproduced in the Northern Times article but without names but it is now possible to add nine confirmed names and thereby deduce the unconfirmed pair:
Front row left to right: – Sgt. David Logan; [assumed to be Lieutenant R G Campbell - note collared tunic] ; Pte. Alexander. Murray
Back row left to right: - [assumed to be Pte William MacLeod named in the Northern Times account] ; Pte. William Ross; L. Cpl. Alex Gunn; Pte. James Aitken; Pte. Alexander. Matheson; Pte John Grant ; Pte. Alexander MacBeath; Pte. Colin Morrison
Pte Alexander Murrary is in a prominent position, just off-centre on the right of the trio seated in the front row. In his letter from Fort George he wrote: "You should see us in the Khaki uniform it makes us quite soldier like"
Picture added on 29 November 2015 at 11:35
Comments: