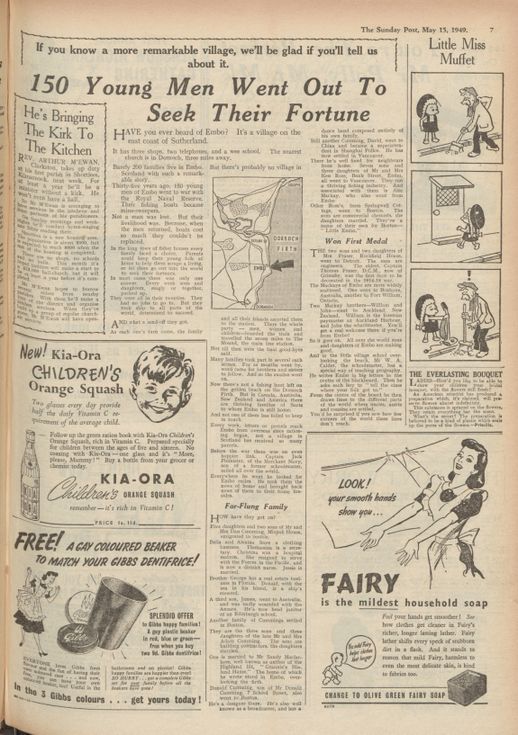 Historylinks
150 Young Men Went Out To Seek Their Fortune
Article from The Sunday Post of May 15 1949 highlighting the emigration from Embo, largely arising from the demise of fishing when the 150 young men of Embo returned home after serving in the Royal Navy and Merchant Navy during WW1. The donor of this article, Kenneth Mackay, recalls that when his mother Maryann Mackay nee Cumming (Maryann aigh Dannagh) left Embo school she worked as a nanny to the three children (Celia, Ella and son Jack) of the Embo School headmaster Mr J G Phimister who is mentioned in the article. Mr Phimister retired in the late 1930's.
Kenneth Mackay also recalls that the Cumming children, 2 sons and 5 daughters, from Mizpah Cottage, Front Street, Embo who emigrated to Seattle were his mother's siblings, children of Donald Cumming (known in Embo as Dannagh) and his wife Annie Fraser. The Ross family. also mentioned in the article, of Springwell Cottage, Embo were his mother's first cousins with 7 sons and 2 daughters emigrating to to the State of Massachusetts, USA, mostly to the Boston area. Kenneth Mackay remembers their destination because his parents visited them there, along with many other Embo exiles, in the mid 1970s. The Cumming siblings originally settled in the same area but later moved about the USA and finally retired in Florida where there was already a sizable Embo Gaelic speaking community.
With a long history of emigaration from Embo, the article draws attention to the constant flow of parcels from overseas to alleviate the rigours of rationing in the UK post war. Kenneth Mackay recalls his parents receiving food and clothing parcels during the war from relatives in the US and Canada. On one occasion in about 1944 his Aunt Alexina in California sent a parcel of clothing, with Hershey chocolate bars, amongst which was a brand new cowboy type shirt and a pair of fashionable light-weight tweed trousers with a distinctive dog tooth pattern. As the recipient of these items he could not wait to wear them next day to Embo School to show them to his teacher Mrs Bremner. He chose a desk next to a walkway and sat with his legs partly sticking out into the walkway to show off his new trousers. His teacher stopped to congratulate him on his newly acquired clothes but then set him back by saying "Beautiful clothes indeed and especially those trousers. But it's a pity that your aunty did not send you a pair of socks and shoes as well." When he looked down at his two bare feet they were in need to a good wash and virtually all his toe nails were chipped and stained with blood that he had accidentally kicked on his way to school. He has fond memories of Mrs Bremner, a kind and sympathetic teacher who took a great deal of interest in the progress of all the children in the several classes she taught simultaneously. However there was one disadvantage in these several classes sharing one room. Inevitably there was at least one sibling present if any scholar fell foul of the teacher and they were never shy to carry tales of events home. In those days teacher's words and decisions were law and parents only took one side in any teacher/scholar dispute!
Open Document
Picture added on 21 December 2014 at 17:36
Comments: