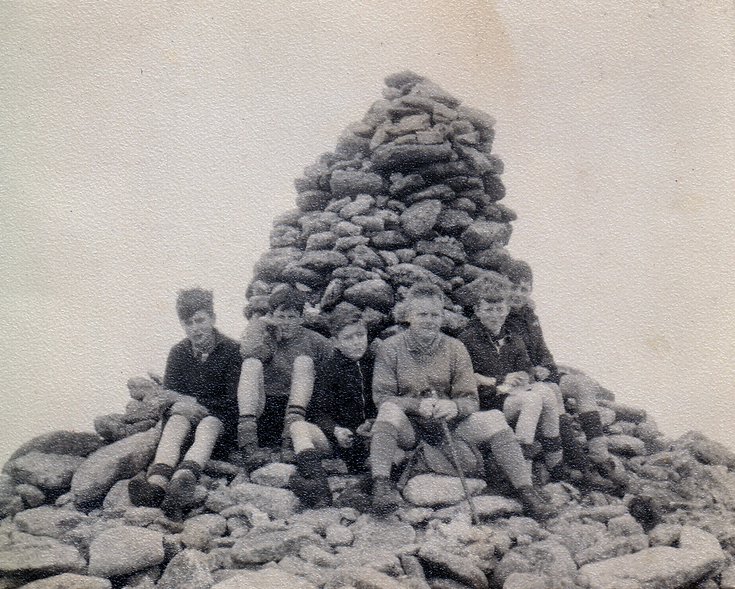 Historylinks
Group of scouts on mountain summit
Monochrome photograph taken by Scoutmaster Fred Savage and the troop members are (from the left) Leonard Will jun., Malcolm Mackintosh, Duncan Bethune, Group Scoutmaster Leonard Will Sen., Hamish Leslie and Michael Robertson.
This is the final photo of a sequence
picture #5290
- rising in the morning after sleeping on the bare hillside. 004.14 - picture # 5301 getting ready to set out up the mountain after breakfast 004.13 -
picture #5300
walking up the track on the side of Corrie Cas. 004.04 -
picture #5291
Checking out the snow at the top of Corrie Cas.
In response to viewing the Image Library, Hamish Leslie sent an e-mail with this photograph attached and the following comments. "I am the Troop Leader H Leslie referred to in objects 2001-099-001-001 to 106.
I never received these photos which I think should have been sent to me by Group Scout Master Leonard Will senior or by Scoutmaster Fred Savage. I am not familiar with a number of the photos but some, which I had not seen before, are of great interest to me. These are a sequence of photos taken in 1955 when the Dornoch Scout troup camped near Aviemore. At that camp a number of the most senior of the troop climbed Cairngorm. I have the final photo in the sequence and I attach a copy in both pdf and jpg format. I am afraid that the quality is not good, but I only have a 3" by 2" matt image.I am not sure how you normally caption the photos but I suggest for the attached photos the following caption [See above]
Picture added on 11 January 2013 at 11:16
Comments: