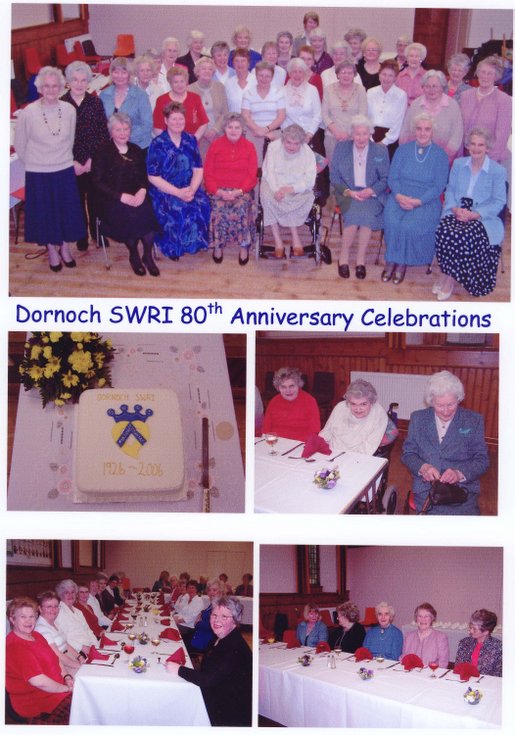 Historylinks
Dornoch SWRI Archives 1926 to 2011 - 80th Anniversary 2006
First of a selection of 50 objects from Dornoch Scottish Women's Rural Instuture archives 1926 to 2011 scanned, with the agreement of the Highland Council Inverness Museum, prior to the transfer of the complete boxed set of objects to their archives. Images of 80th anniversay celebrations.
Top photo back to front row and left to right:-
Maureen Brennan; Sylvia Whiteside; Fiona Macdonald; Catriona Wood; Jean Mackenzie; Inge Manson
Annabelle Murray; Moira Rennie; Trish Weekes; Linda Thomas; Brenda Tessell; Betty Smith; Sue Cardus; Isabelle Calderwood
Barbara Beckett; Betty Robertson; Addie Mackenzie; Helen Ewan; Marie Blais; Joyce Macdonald; Rose Matheson; Barbara Reeves; Bridget Mackenzie; Kath Munro
Isabelle Sutherland; Joan Macleod; Scilla Aitcheson; Margaret Spence
front row seated Mary Gall; Maureen Mackay; Cathy Grant; Daisy Grant; Nannie Macdonald; Jessie Bell; Mora Douglas.
Picture added on 21 October 2011 at 15:19