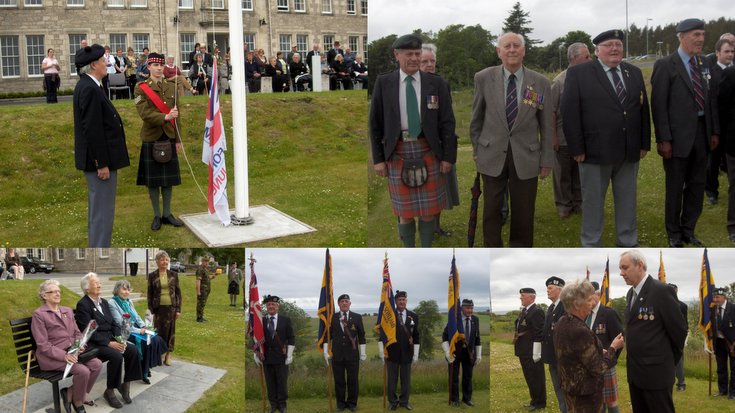 Historylinks
Armed Forces Day Parade 21 June 2010
The magnificent setting at the front of Drummuie, Golspie was agai the venue for the flag-raising ceremony, sponsored by the Sutherland Lieutenancy, in conjunction with Highland Council, to mark the start of the week in which the national Armed Forces Day falls.
The occasion was used to present Veterans' badges and Land Girls' medals to some of those attending. Veterans stood proudly in their berets and medals, as the flag was raised by Bill Grant of Dornoch, an ex member of the Life Guards, who served from 1949 to 1951. He was ably assisted by Cadet Sergeant Billy Jappy of Helmsdale, parading on his first occasion as the Lord Lieutenant's cadet.
The parade was enhanced by members of the Brora and Dornoch Army Cadet Force detachments and the colourful Standards of the Royal British Legion branches of Dornoch, Lairg and Rogart, and Creich and Kincardine, with Dornoch also parading the union standard. George Stewart, Golspie, played his pipes during the ceremony.
The occasion was an opportunity for Flower Thomson, Deputy Lieutenant, to present four of the veterans with their Veteran's badge – Donald McNeil of Rogart, Gordon Raspin and Alaisdair Miller both of Golspie, and Bill Grant of Dornoch. Then it was the turn of the Land Girls to receive their medals. Susan Read of Bonar Bridge, Sheila Speak of Dornoch and Margaret Martin of Golspie had all served in the Women's Land Army, colloquially known as Land Girls. This uniformed organisation was formed to free male land workers to go to war.
Picture added on 24 June 2011 at 12:32