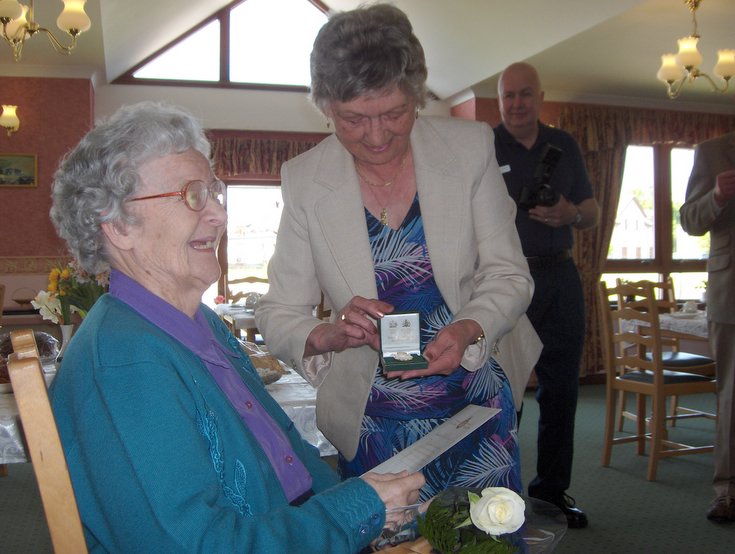 Historylinks
Women's Land Army Badge presented to Isabella Gray (Dornoch)
Isabella Gray (always known as Isabel) was born in Edinburgh on 19th June 1927. She left school at 14 and went to work in Wilkies on Princess Street in Edinburgh where she was trained to be a dress seller. Although she did fire duty at night in Edinburgh as well as her work on the shop floor, in 1943 she decided she wanted to do more for the war effort. Her dream was to join the Wrens but her father was a Chief Petty Officer in the Navy and he said "No daughter of mine is going to go in the Navy!" With a cousin she joined the WLA and they were sent to East Lothian to do their training but were then separated with Isabel was sent to a farm in Aberdeenshire. Farming was initially a shock for a city girl and some male workers on the farm thought it great fun to put mice in the Land Girls boots and sandwich boxes. Getting up and going to bed in the dark was difficult too.
Chilblains were another problem in the winter. Eventually the farm owner took pity on Isabel and allowed her to work in the greenhouses in the winter months but in summer it was all hands on deck forking hay into the thresher, praying all the time not to fall in from the precarious position on top of the hay wagon.
A very good friend on the farm Jenny Taylor told Isabel that her cousin Jim serving in Malaya didn't have many people writing to him and asked Isabel if she would be his pen pal. Although the correspondence did not get off to a good start, Jim at first saying he did not want any complete strangers writing to him, Isabel persevered and when the war ended there was the happy outcome of marriage which lasted for sixty-one years.
Open Document
Picture added on 24 June 2011 at 12:13