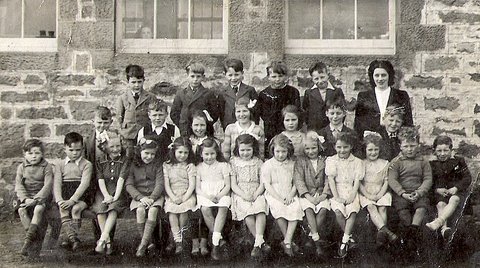 Historylinks
Group photograph Embo School c 1946
Monochrome photograph of Embo school children c 1946, taken at the school.
Front row: Hugh Docherty, David Ferguson, Annabell Watt, Ray MacLeod, Flora Fraser, Catherine Ross (Post Office), Una Fraser, Pat Cumming, June Davidson, Ann Mackay, Hectorina Mackay, George Mackay, George Fraser.
Middle row: Hugh Ross, John Mackay (King), Jessie Joan Grant, Sheena Davidson, Margaret Mackay (King) Billy Swanson (Coull Farm). Alastair Ross.
Back row: Donald Swanson (Coull Farm), Peter Swanson (Coull Farm), John Calder (Headmaster's son), Joe MacDonald, Alastair Fraser and Teacher Miss Johnston.
Picture added on 22 February 2011 at 16:10
Comments: